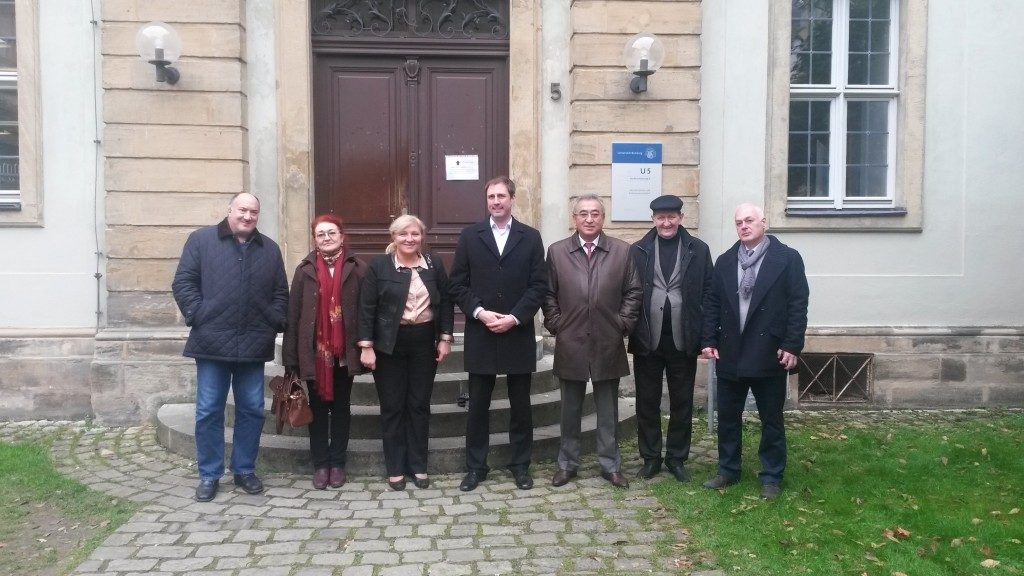 A Preparatory meeting for TEW-CCA was held from 29th to 30th of October 2014 in Bamberg, Germany. The workshop was organized by Prof. Dr. M. Gebel from the University Bamberg and funded by the VolkswagenStiftung (funding initiative "Between Europe and Orient", call "Institutional change and social practice – Research on the political system, the economy and society in Central Asia and the Caucasus").
The workshop aim was to develop a full research proposal on "Opportunities and Barriers at the Transition from Education to Work: A Comparative Youth Study in Azerbaijan, Georgia and Tajikistan". Another core idea of the workshop was intensive networking among cooperation partners. All involved partners, T. Faradov, R. Sattarov (Azerbaijan), I. Badurashvili and G. Meladze (Georgia), as well as S. Olimova and S. Ashurov (Tajikistan), were able to participate in the meeting.
The above international and interdisciplinary research network brings experts from sociology, psychology, economics, demography and human geography together. Thus the approach is promising as it considers the variety of problems that youth is facing in the Caucasus and in Central Asia nowadays. During the workshop participants have presented preliminary results and thoughts on relevant topics such as youth, the transition of labour markets and education systems in CCA. Total six presentations were held covering the main theoretical and empirical findings relevant to the development of the conceptual framework for the upcoming research project TEW-CCA.
Presentations held during the TEW-CCA Workshop:
Michael Gebel (Otto-Friedrich Univ. of Bamberg): The Transition from Education to Work in Central Asia and the Caucasus in International Comparative Perspective.
Tair Faradov (Int. Centre for Social Research) and Rajab Sattarov (Baku State University): Social values and individual attitudes with regard to education, work and family among youths in Azerbaijan.
Irina Badurashvili (Georgian Centre for Pop. Res.): Gender aspects of the transition to adulthood in Georgia.
Giorgi Meladze (I. Javakhishvili Tbilisi State Univ.): Regional aspects of the demographic situation in Georgia.
Saodat Olimova (SHARQ Research Centre): Youth of Tajikistan in the transition from education to work: challenges and individual life strategies Tajikistan
Subhon Ashurov (Tech. University TJK): The state of the labour market and youth employment in Tajikistan.
According to workshop outcome, the research project will focus on the role of subjective factors and attitudes of youth, which will be addressed within the quantitative and particularly the qualitative youth survey on youths' self-conception. Furthermore, TEW-CCA covers topics such as ethnic minorities, religion (Islam) and migration (CCA countries – Russia) in the CCA region for period 2015 – 2018.